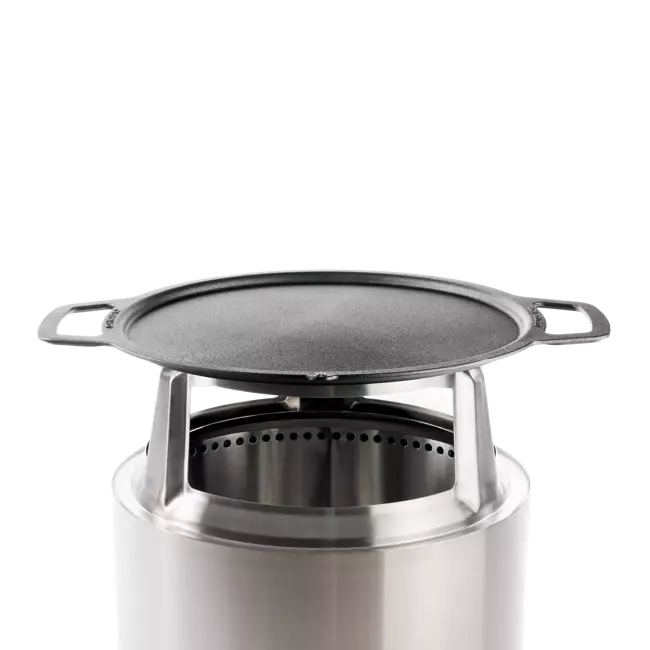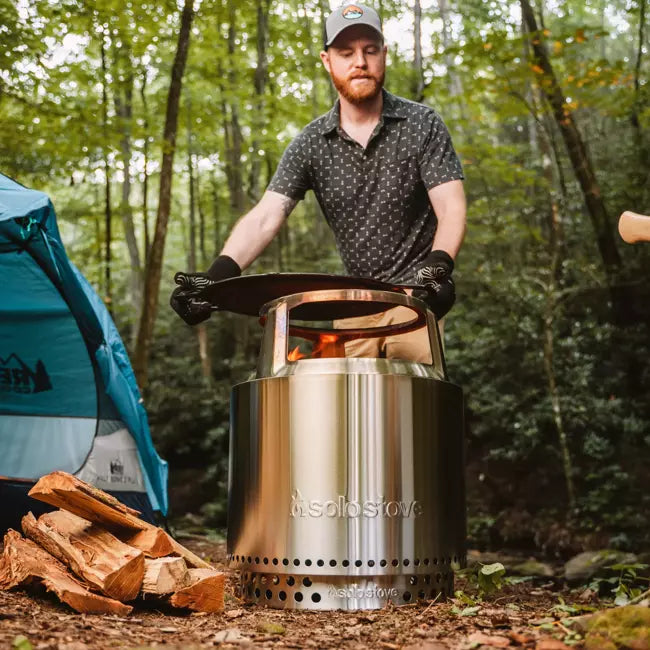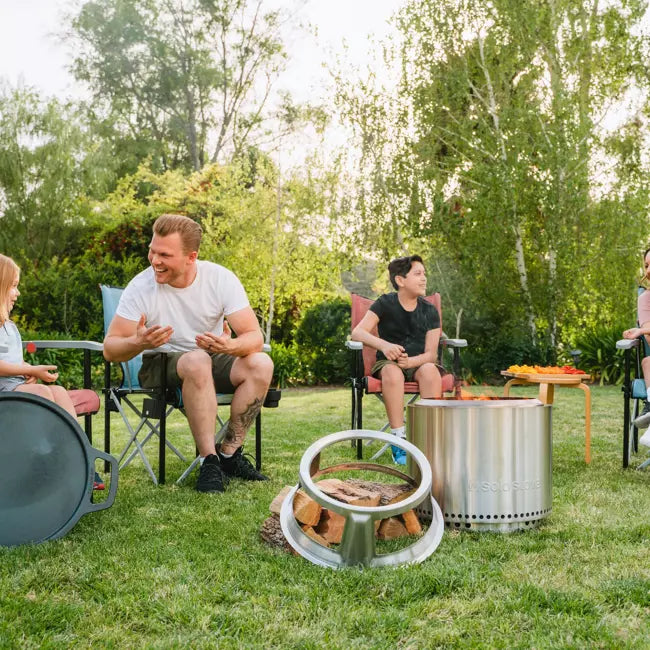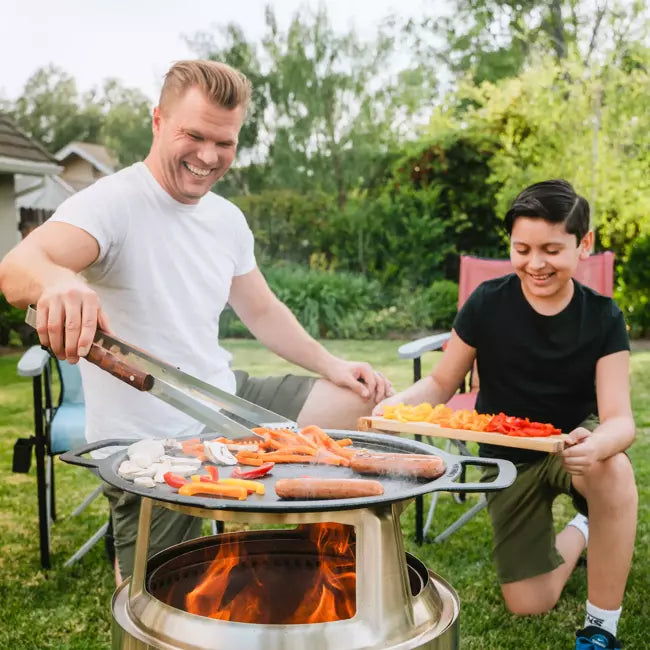 Bonfire Cast Iron Griddle Top + Hub
Regular price
Dhs. 999.00
Sale price
Dhs. 999.00
Regular price
Tax included.
Price Match Guarantee. Find A Better Price? We'll Match It.
Free Next Day UAE Delivery
Cowboy cooking, in the backyard and beyond. Custom-molded for the Bonfire Cooking System and joined with Hub, Cast Iron Griddle makes quick work of family favorites and suppers that sizzle.
Griddle and Hub are part of the Bonfire Cooking System and must be used with Bonfire for a safe and complete experience.
Bonfire Cast Iron Griddle
For homestyle classics
Bonfire Hub
Elevates your cooking surface
Bonfire Cast Iron Griddle+ Hub
Cooking Surface Diameter: 17.5 in
Hub Base Diameter: 18.75 in
Combined Height: 9 in
Weight: 19.5 lbs
Materials: Stainless Steel + Cast Iron
Returns
Free standard shipping with a purchase of $299 or more on all orders in the United States (excluding PO Boxes, Alaska and Hawaii). Free 30-day returns on any order shipped within the contiguous United States (lower 48 states). Return policy exclusions apply. Learn More.
Lifetime Warranty
We warranty each and every Solo Stove product to be free of manufacturing defects, and we will replace with a new product, at our option, any genuine Solo Stove product sold by an authorized retailer that is deemed defective. Learn More.

Is this a gift or surprise? Please be aware that the product box displays a picture and the name of the product.
Get Cooking Over America's Favorite Fire Pits
Rediscover open fire cooking with our modular Fire Pit Cooking System. Melding the primal experience of outdoor cooking with an ingenious, modern design, the Fire Pit Cooking System creates a safe and satisfying way to drum up fireside fare.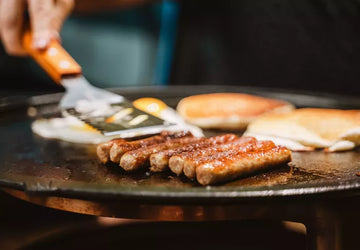 Adaptive
Cast Iron Griddle's classic flat top can handle every meal of the day and more. Perfect for when you have plenty of mouths to feed, your outdoor eats can be fried, flipped, fired, and shared.
Easy To Use
Novice chefs can achieve mastery of open fire cooking in no time with Cast Iron Griddle's natural counter to intense heat. It heats up gradually and evenly, then transfers heat steadily to maintain perfect cooking temperatures with a single layer of burning embers.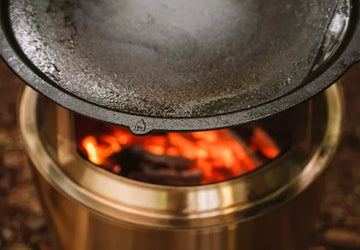 Long Lasting
The longevity of cast iron is legendary and owed to its ability to season. Non-stick and polymerized, a seasoned Cast Iron Griddle is easy to clean for life-long use. Cast Iron Griddle wears in without wearing out, creating limitless opportunities to light up for years to come.
Portable
Cleverly designed with portability in mind, everything from packing to assembly is effortless so you can focus on the trip of a lifetime or crafting wood-fired fare. Paired with the Carry Case, Cast Iron Griddle completes the nesting Ranger Cooking System made to store well and go anywhere.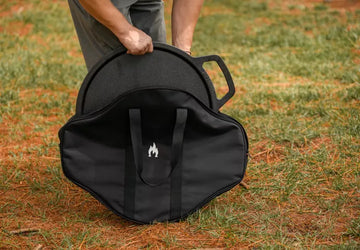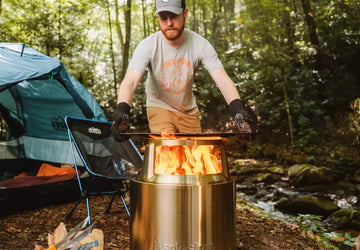 Bonfire Cooking System
Cast Iron Griddle and Hub are part of a well-oiled machine made for creating good moments. Trailside suppers and flame-to-table feasts are possible with Bonfire and accessories for a complete experience.
Find the perfect amount of heat to start, with 4-6 medium-sized and split logs reduced to coals.
We recommend kiln-dried hardwoods like Oak, Hickory, Maple, and Pecan. Some wood is not safe for cooking, including softwood, plywood, construction scraps, painted or stained lumber, or any composite logs containing accelerants..
The fire pit cooking system works best with a shallow bed of embers in your fire pit's burn chamber. Flames shouldn't be higher than a few inches while cooking with the Cast Iron Griddle.
Yes, Cast Iron Griddle should be treated just like the cast iron you're familiar with. The non-stick quality will fully develop after 8-10 seasonings. Allowing an extra 30 minutes before cooking will be plenty of time to season your Cast Iron Griddle .
Grease and crumbs can be wiped away while the iron is hot, and you can do this safely with rags gripped by cooking tongs. Remove your Griddle from Hub using heat-resistant gloves and rinse with just hot water. The most stubborn residue can be removed with our Cast Iron Scrubber and hot water. Follow all cleansing with thorough drying. Never let the cast iron soak or be submerged in water for any amount of time. Apply a light coat of seasoning oil to clean and dry cast iron before storing. Season your Cast Iron Griddle well and often to keep it non-stick.
Some grease will not impact the performance of your fire pit and will burn off with each use.
Yes, Hub is an essential part of your fire pit cooking system. Cast Iron Griddle should never be placed over your fire pit without Hub..
Hub can be placed directly over your fire pit with or without the flame ring.