Blog
Peace of Mind For Your Next Fire
بواسطة Julian Husseini على Oct 15, 2021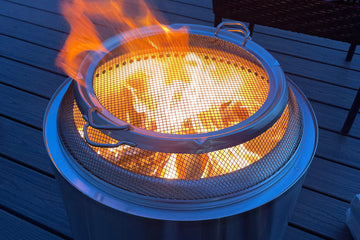 by Carolyn Owen
We don't take the subject of fire safety lightly. Whether you're camping near a nest of pine needles, or kicking back on your wood deck, you'll need to make sure you take all necessary precautions before lighting a fire. Here we'll explore some options for burning the safest fire possible in your fire pit.
The Safest Burn Possible
A fire in a Solo Stove fire pit is already very well contained compared to traditional fire pit models, but there are a few of our accessories you can add to make sure you feel as safe as possible. 
Photo by Tony Lopez

Solo Stove Stands are designed to keep any surface cool while your fire pit is in use. They're made of sturdy, heat-resistant 304 Stainless Steel, making them our most popular fire pit accessory. Using a Stand is required when burning on any heat sensitive surfaces. While your fire pit can reach temperatures over 1000° F, your Stand can help keep some heat off those surfaces. However, using concrete pavers or bricks under your Stand will make sure your surfaces stay extra safe, especially during burns that take place over a few hours.
"I love knowing that when I'm using my stand my trex deck is safe and my flagstones won't get dirty." – Peg W.
Photo by Douglas L
Shield is more than just a spark arrestor. It's the perfect tool for giving you more peace of mind during a night around the fire. Keeping embers and sparks at bay, Shield is a must-have if you've got pets or kids. Unlike other spark arrestors that are required to be entirely removed from the fire pit to add wood, Shield's two-piece design allows the top portion to be removed, so wood can easily be added while the fire pit's outer edges stay protected. When your flame is beginning to die down, and you're thinking about heading in for the night, Shield will keep your fire contained while you clean up your party area. That being said, don't leave your fire unattended!
"We love our solo stove (easy to use, can have on our deck, so little smoke). The Shield is the perfect accessory, providing safety of sparks being contained with all the ease of adding wood (and roasting marshmallows). With the higher rate of wildfires the Shield is a must have accessory to ensure safety for you and your home." – Jennifer D.
Photo by Jonathan Y. – Solo Stove Content Creator
When your fire has died down significantly and only hot embers remain, Lid can help speed up the cooling process, so you don't have to worry about hot embers re-igniting fire in the middle of the night. Once your Lid has been placed on your fire pit, you are free to step away while the embers cool down completely. Please be aware: you should never use Lid when there are still flames visible in the fire pit, only when red, hot embers are visible.
"This lid works great! I use it at the end of the night once my fire is down to coals, and it does a great job of preventing embers from coming out and keeps the elements out of the pit. It gives me peace of mind to be able to go to bed and know the pit is safe." – Derick J.
Fire Safety Tips
It's time for some rapid-fire safety tips, so make sure you take notes:
Photo by Eric V.
If you're concerned about your fire pit being too hot for children or pets, or even your legs as you walk past it, you may want to consider installing an enclosure around it. Check out our Solo Stove Fire Pit Enclosure Inspiration blog to see which enclosure will fit your space the best!
You'll always need to make sure your fire pit is at least six feet away from any nearby buildings, structures, or trees. Also, there needs to be a clearance of 15-20 feet over your fire pit while in use– this makes covered patios a no-go for fire pit use. Any surface you burn on should be free of flammable materials such as pine needles.
We do not recommend you pour water into the fire pit while in use. Water + ashes = a sticky mess that hardens into a paste that will block airflow in your fire pit. Instead, we do recommend keeping a bucket of sand handy for smothering a flame if need be.
You might want to have a bucket of water handy for another reason, though. If you find that you've added more wood than you originally bargained for, you can use our Fire Pit Tools to remove burned logs and submerge them in a bucket of water. Please only do so exercising the utmost caution, and make sure any kids or pets are not in a close vicinity when trying this out. We recommend doing so only with logs that are not actively burning and appear charred.
Last but not least, (in fact, this might be the most important tip) never leave an open flame unattended. Here's how our community gains some peace of mind while using their Solo Stove fire pit:
"I was thinking about building a fire pit in my yard because I was concerned about having a fire pit on my deck but once the Solo Stove got here it was a game changer. It is the only fire pit I would ever use on my deck. It is amazing that the bottom never gets hot. The deck is safe and the smoke goes up and not in your eyes. I would recommend Solo Stove to anyone." – Chuck S.
"Pay attention to the wind forecast and start small. With fire It's much easier to turn it up than turn it down once it's lit. So play it safe when you're getting lit!" – Jason S. : Solo Stove Content Creator
"We wanted a fire pit but live in the woods so we needed something safe. Also we wanted it to be portable so it can be used on the driveway, in the yard, or on the deck.  A friend recommended this brand so I looked at the website and then ordered the Bonfire.  First use was yesterday and WOW what an easy and fun experience. Easy setup, easy start, very hot fire and almost no ash for easy cleanup.  Have ordered accessories now because they are made angled to more easily approach the fire pit. Would recommend this to anyone."
– Mary G. 
"Make sure the fire pit is at least three feet away from anything that can burn. Closely watch children when the fire pit is in use. Use a Shield over wood-burning fires to keep sparks from floating out. Never leave a burning fire pit unattended.  Be sure the fire pit is stable. Check the weather for red flag warnings (like here in Charleston today) if the forecast is calling for windy and dry conditions, maybe find an alternative outdoor adventure for the day. Only burn wood, no plastics or any other hazardous material."
– Joey T. : Solo Stove Content Creator