Regular price
Dhs. 119.00
Sale price
Dhs. 119.00
Regular price
Tax included.
Price Match Guarantee. Find A Better Price? We'll Match It.
Free Next Day UAE Delivery
Color bright new memories with Color Packs. Simply throw a pack into your flames, and watch as the vibrant colors come to life within seconds. Each pack burns for an hour of uninterrupted fun.
Returns
Free standard shipping with a purchase of $299 or more on all orders in the United States (excluding PO Boxes, Alaska and Hawaii).Please note that this is a final sale item. Learn More.
Lifetime Warranty
We warranty each and every Solo Stove product to be free of manufacturing defects, and we will replace with a new product, at our option, any genuine Solo Stove product sold by an authorized retailer that is deemed defective. Learn More.
Is this a gift or surprise? Please be aware that the product box displays a picture and the name of the product.
A Pop Of Color
Take your flame to the next level with a pop of color. Toss a color pack into your fire pit and watch the flames dance between blue, green, purple, and yellow.
Vibrant Colors
Amaze your neighbors with mesmerizing blues and greens dancing about your flames. Your colorful fire will wow your night crowd creating a memory that'll last a lifetime.
Easy To Use
All you'll need to do to get your color show going is toss a pack into your flame. No opening, no assembling, just create your fire and throw in a pack for a vibrant pop of color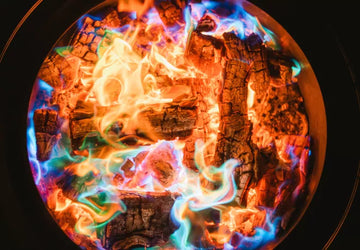 Each bag comes with 10 color packs.
Each pack has the potential to display an array of colors while in use, and cannot be predetermined.
Color Packs have a shelf life of 30 years.
When your fire is nice and big and has been burning for at least ten minutes.
Do notopen your Color Pack. Simply take a Color Pack, and drop it into the fire to get the light show started.
Copper Sulfate, Sodium Chloride, and Potassium Chloride. These are chemicals, once a Color Pack is in your flame, you should not roast any food over it.
No. Do not consume any food roasted in a Color Pack fire.