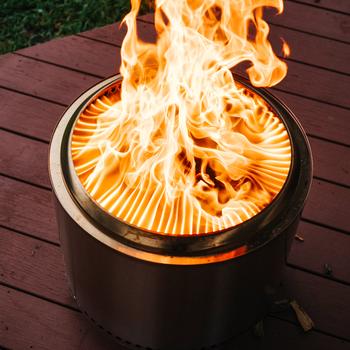 Regular price
Dhs. 1,099.00
Sale price
Dhs. 1,099.00
Regular price
Dhs. 1,499.00
Tax included.

Price Match Guarantee. Find A Better Price? We'll Match It.
Free Next Day UAE Delivery
The Solo Stove Bonfire is an award winning fire pit design. It was painstakingly engineered to provide a backyard fire experience that cannot be duplicated.

The Bonfire is unlike any other fire pit you've ever seen! We have used our same patented technology that has been perfected into a portable fire pit to take along on trips or to enjoy at home. The best part? Nearly no smoke and minimal ash left over! Making the Bonfire not only easy to clean up, but won't leave you or your neighbours smelling like campfire. The Bonfire is perfect for reconnecting with family and friends at outdoor get-togethers large and small.
Using our patented design and specialized construction process, we have created the most beautiful single unit fire pit ever. Prepare yourself to be wowed by the Bonfire's mesmerizing flames.

5 years in the making...
The Bonfire pushes the limits of both combustion airflow efficiency and minimalist outdoor design. Strategically placed holes in the double-wall structure suck the air from the bottom and feed the heated oxygen to the top resulting in a spectacular flame. This burst of preheated oxygen feeding back into the fire through the top holes causes a secondary combustion that results in a clean and more complete burn which means way less smoke and minimal ash left over.
Each portion of the bonfire is made of the highest grade 304 stainless steel and perfectly measured and formed. The bonfire presented us with some unique design challenges that required us to create custom tools. These tools, along with a precision construction process, and intricate multi-step finishing and polishing process result in a product that is both beautiful and durable.
It also comes with a durable carry case with handles for easy transport!
Free Next Day Delivery for all orders placed before 4:00pm in the UAE excluding Sundays and public holidays. Orders placed after 4:00pm will be delivered after 2 days. 
We also offer Same Day Delivery for all orders placed before 12:00pm charged at AED 50 per order. Orders placed on Friday or public holidays will be processed the next business day and delivered the day after that.
Shipping out of the UAE will be quoted for at checkout.