Blog
The Perfect Tools for the Job
by Julian Husseini on Oct 15, 2021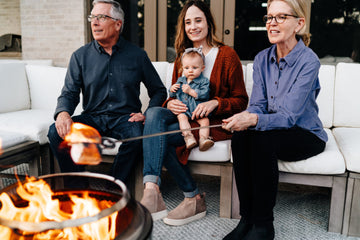 Solo Stove fans LOVE their Solo Stove accessories, from Shield to Starters. Read on to learn how some of our customers use their accessories to turn good moments into lasting memories around their Solo Stove fire pit.
Stand
Stand allows you to use your Solo Stove fire pit on virtually any surface. If you have a wood, composite, or PVC deck, or any other heat-sensitive surface you want to use your fire pit on, Stand will help keep it cool while your fire pit rages above.
Check out some of our favorite Stand stories:
"We met a nice couple from Utah on our first camping trip with our little trailer. The couple had a unique campfire stove. Six of us, plus our granddaughter, sat around the fire for at least one hour burning only a few small pieces of wood. No smoke, great flame, and burned so efficiently my husband and I returned home the next day and purchased the Bonfire! After using our Bonfire several times, we saw the ad for the Bonfire Stand and knew it would give us more opportunities to use our Bonfire on grass and other surfaces. We are Solo Stove addicts and will never go back to any other bonfire! Can't wait to use on our next vacation!
— Linda
"This was a perfect companion to my Bonfire fire pit. I had been laying down a large slate under it so I could use it on my deck… and I would put the stove away, but leave the slate.. then break a toe… :\ But the ring just tucks right into the stove for storage, is VERY sturdy, and has made the whole scenario even more perfect! Thanks for this great add on!"
— John
"We set up our Solo for the first time this past weekend. We loved it and our guests were blown away. We hadn't received the stand (it was ordered later as an afterthought) and we weren't sure if we could put the solo directly on our newly poured, still white, concrete driveway. We ended up putting it on a "pad" constructed of 4 prepoured paver stones from our local concrete plant, but it wouldn't have been necessary. We burned it for about 6 hours and when we finished, my husband said the base of the fire pit was still cool. The Stand was delivered in time for us to use last night for Halloween. We set the campfire on the end of our driveway, along with some chairs, as the trick or treat station. It kept us warm and absolutely every parent wanted to know all about it! 
It's a great product, I definitely recommend."
— Theresa
Shield
Shield keeps sparks and embers from popping out of your Solo Stove fire pit. You can even remove the lid using the included tools to add more fuel to your fire, as well as rest your roasting sticks on when it's time to roast the perfect s'more.
Check out some of our favorite Shield stories:
"I saw a huge reduction in the number of sparks that came out of my Solo Stove, and no hot embers at all after adding the shield. I was less on edge and was able to relax last night without worrying about embers flying onto the patio furniture! My new patio lounge furniture thanks you big time for this accessory."
— Bob
"Solo Stove has done it again…a perfect accessory for the perfect fire pit. My wife and I have been waiting for this product for so long and it surely doesn't disappoint! It also has a really cool lid that you can remove to add more firewood or roast the perfect s'mores! The Shield really helps to reduce sparks and embers from escaping the fire pit, keeping the patio furniture in great shape!"
— Bobby G.
Sticks
Gathering around a campfire isn't complete without a s'more. These roasting sticks are so durable and fun to use, you'll be roasting countless marshmallows and hot dogs with the whole family.
Check out some of our favorite Sticks stories:
"I've enjoyed the sticks so much with our Bonfire Firepit, that I took the opportunity to buy an additional set for my daughter and son-in-law. The sticks are absolutely terrific – they are solid, stable, and clean up easily. Love that you're able to unscrew them for not only ease of cleaning but also the ease of storage. Solo Stove, you are the best!!"
— Robert S.
"Bought these for my husband for Father's Day and they were an awesome set for us to cook s'mores and dogs over the Solo Stove in a much safer way. The fire really gets roaring and our other sticks weren't as long or stable. These are a fun gift for any Solo Stove owner or anyone that loves s'mores. Each stick comes in two pieces and you screw them together after taking them out of a case. Very cool stuff."
— Rachelle
"We bought the Sticks for roasting marshmallows and hotdogs on our Bonfire and we love them! The kids love roasting marshmallows at night with them! Great family time! The sticks fit perfectly in the spark arrestor that we bought for the fire pit."
— Dan B.
Fire Pit Tools
Our customers find that Fire Pit Tools let them stoke and add more logs to their fire without even leaving their chair. The poker and log grabber are angled, letting them tend their fire at a safe distance.
Check out some of our favorite Fire Pit Tools stories:
"Got my Bonfire Solo Stove in December and used it for the first time on New Years Eve. It was excellent. Tools arrived earlier this month and just used them for the first time this past Saturday and wow they are perfect! Having the claw made such a big difference. Once the fire was going, I was able to use the claw to move things around inside to better distribute the heat and get all the wood burning at a peak efficiency. The result of that was when I would add another log or two in along the way, it would not smolder at all and the new pieces would really start burning hot and fast. I didn't use the poker as the claws were doing so great, but the poker is pretty impressive itself."
— Jason
"I bought this as a gift for my brother-in-law because he is still using a stick to poke his fire with. He likes messing with his fire, and after looking at this set, I think he will be more than pleased with his new Birthday present. They are designed to be used."
— D
Starters
Solo Stove fans love Starters because it let's them get fire going super quick. They're non-toxic and made with 100% recycled hardwood materials.
"I was looking for a better, safer, easier way to start my Solo Stove. You don't have to worry about lighter fluid or using paper to start your fire. These fire starters start so quick! "
 — Vincent
Juniper Aromatic Firewood
Our customers love Juniper firewood because it creates a cozy, lively ambience in their fire pit with the sounds of crackling wood and the smell of juniper. Each log is pre-cut to fit inside any Solo Stove fire pit.
"We built a fire in our Bonfire the other night using this wood…it didn't take but about 3 pieces to roast wieners for hot dogs. After, we roasted marshmallows for s'mores, and the fire was still burning for about another 15 minutes after our dessert & drinks. The wood smells good when burning & ignited easily.We kicked back on the deck for about 2 hours, had dinner & walked away without a kitchen to clean."
— Karen
"The wood burns for quite a while. It smells fantastic and makes you feel like you are in the deepest part of the woods."
— Gina F.
Shelter
Shelter is our fire pit cover that's not just weatherproof; it's weather resilient. Shelter helps our customers keep their Solo Stove fire pit safe from rain, snow, wind, and dust in between burns.
"Got this product just in time since we've been experiencing lots of rain where we live and it keeps our fire pit protected outside."
— Maithen
"Recently got it for my dad and now he can leave his fire pit outside. So glad I got it for him!!"
— Sky L.
Station
Some of our customers have a lot of Solo Stove gear, and they need a place to put it all. That's why they love Station. It's a place to keep their Ranger or Bonfire, wood pile, fire pit tools, s'mores kit, and anything else they need to enjoy time around a fire.
Solo Stove Station is so easy to assemble. It is cleverly designed to allow you to put different sized woods on the shelf for easy access. I'm "stoked" for the upcoming fall and look forward to many great burns. Thank you Solo Stove for yet another great product."
— BJ
---
Shop our Fall Event now and save up to 40% off Fire Pit Accessories!