Blog
The Tools You Won't Want to Put Down
by Julian Husseini on Oct 15, 2021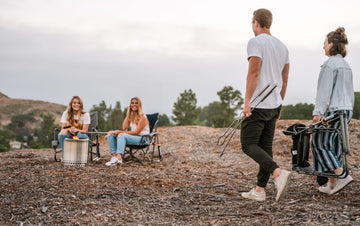 by Carolyn Owen
One of the best things about a Solo Stove fire pit is that you can light your fire and forget it. You don't need to constantly adjust your logs to create the best burn or the biggest flame, but for some of us, poking the fire is the best part. Whether you're lighting up a Bonfire, Ranger, or Yukon, you'll want to make sure you have the right tools for the job of safely keeping your fire stoked.
Enter, Solo Stove Fire Pit Tools. These tools are well made, considerably designed, and downright fun to use. Our product development team crafted Fire Pit Tools with "downward bends," allowing you to maintain your perfect flame however you see fit. Keep reading to see what Fire Pit Tool owners have to say about the accessory you won't want to put down.
Fire Pit Tools were designed with convenience and safety in mind. The angled poker provides 165° of relaxation, allowing you to stay seated while tending to your fire. Similarly, an angled log grabber means you won't have to reach into the fire pit to put another log on the fire:
"I love this fire pit tool set! The bend in the poker is GENIUS and really does keep your arm away from the flame. I also really like how flat the tip is on the grabber. Makes it super easy to add wood. Perfect addition to my already well-loved Bonfire." — Jennifer S.
"When I got my tools I thought… "uh oh, this is bent." DUH they're supposed to be like that! Already used mine and the design really helps you play with the logs without getting too close. If you like to build your fires BIG then you'll love the angled design too!" — Desiree J.
"BOTH tools work great and bent angle is definitely a must. This [fire pit] puts out HEAT and the angle on the tools allow you to add wood and adjust logs without getting a face full of superheat. So if you're thinking "Should I?" just get them you won't regret it!!" — Jon J.
Like all Solo Stove products, Fire Pit Tools were designed to be a top-of-the-line accessory. Made of the same 304 stainless steel as our fire pits, you'll never need to buy another set:
"I was so happy to see SS not mess around on quality with this one. Was worried they'd feel flimsy, but was once again happily surprised! Hefty stainless steel and good weight help you move the logs into and around your fire with ease." — Jeremiah B.
"They say 'buy nice or buy twice.' These fire pit tools feel like they'll last forever. They are sturdy and long enough to keep your eyebrows safe from the roaring fire in your shiny new pit." — Adam R.
I love the fact that they're stainless steel, so they won't rust in places that are humid or near saltwater! — Paul Swisher, Solo Stove Content Creator
Aside from quality and design, Fire Pit Tools are certain to make your fire pit experience even better than you ever imagined it could be. It seems almost impossible to make a Solo Stove fire even more fun, but our accessories never fail to elevate an experience:
"One thing that I can't stress enough with the Bonfire, is that you really need to get the fire going efficiently to really get the most heat and almost no smoke. Having the [log grabber] made such a big difference. Once the fire was going, I was able to use the [log grabber] to move things around inside to better distribute the heat and get all the wood burning at peak efficiency." — Jason
"When I see pictures of dented fire pits grates, I just know it's because firewood is being tossed into the fire pit instead of placed in. The log grabber allows you to place your firewood in carefully, so that way your fire pit grate stays protected." — Paul Swisher, Solo Stove Content Creator
Ready to take your fire pit fun up a notch? Don't miss out on the Fire Pit Tools Flash Sale, happening on solostove.com right now! Click here to shop.