Blog
The Solo Stove Fire Pit Cooking System
by Julian Husseini on Oct 15, 2021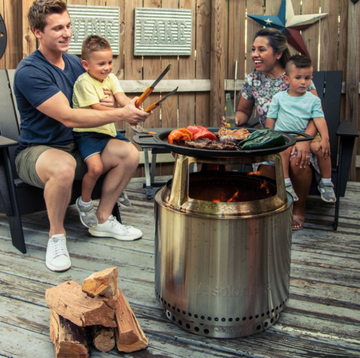 Open fire cooking is practically as old as fire itself. Cooking over an open fire reminds us that we are all linked by the tradition that once kept humankind alive under an open, starry sky. Since the creation of the Bonfire, our community has been searching for a way to cook over their fire pits. After years of being the #1 most requested fire pit accessory, we are proud to introduce the Fire Pit Cooking System.
Members of our community have come up with several ways to take their original fire pit experience up a notch by adding a grill grate every now and then. Our fire pits are known for creating a hot, efficient burn with flames reaching over 1200° F. Our team was inspired to take the heat and to create a cooking experience that is safe, simple, and satisfying, and we're proud to introduce the Fire Pit Cooking System.
The Fire Pit Cooking System includes Hub, and Cast Iron Grill. It's completed by our Gloves, Cast Iron Scrubber, and Cast Iron Seasoning Oil. The most natural thing in the world is cooking over a fire. Now, you can do it over your Solo Stove fire pit.
The Fire Pit Cooking System was designed specifically for Solo Stove Fire Pits. Cast iron is simple to maintain, and the even-heating subdues the challenge of open fire cooking.
Memories for a Lifetime
Serve up your best recipes on our Cast Iron Grill for years to come. The totally custom round design allows for access from all sides. Easy-to-Use Cast Iron gives you a clean, even sear and was chosen for its forgiving nature; it heats up slowly and stays nice and hot so you can keep cooking while adding more wood as needed. It's ability to retain heat makes it the perfect choice for open fire cooking and will make even the novice feel like a master chef.
Custom Molded Cast Iron Grill
Cast Iron Grill's custom molded shape features three feet that dock perfectly on Hub, creating a secure fit while in use. Two handles allow a firm grasp on the grate, unlike traditional skillet-style shapes with one awkward handle. The perfectly-spaced, wide grill grates create flame kissed, wood fired food fit for a feast. 
Deep Drawn Stainless Steel Hub
Hub is a seamless piece of 304 stainless steel, crafted using a "Deep Draw" manufacturing process. A solid disc of hot stainless steel is placed onto a machine that uses a high pressure press to form the disc into the desired shape, creating a solid, extremely-durable fire pit cooking accessory. Hub offers three windows for easy firewood access. The Hub provides a 6" to 8" lift above the flames which places your cooktop at an ideal height to endure the signature heat of a Solo Stove.
The design of the Hub is meant to make it easy for you to experiment with cooking on many surfaces. If you already have a nice collection of gear, feel free to purchase the Hub by itself. You can do so by contacting our Community Support team at solostove.com/contact.
Portable 
Staying true to our roots, the Hub's design lends itself to traveling with your fire pit, allowing you to build a campsite kitchen anywhere. Simply invert the Hub and nest it inside of your fire pit, and place the Cast Iron accessory on top.
---
Pairs Well With…
You'll need to make sure your cast iron is consistently cared for and properly seasoned to ensure the highest quality cooking. Here are a few things you can use with your cast iron to preserve its quality and protect yourself from high heat.
Gloves make it so much easier to get around a hot fire pit, and while we've had these in the works for a while, introducing them with our new Cooking System seemed like perfect timing. Gloves' insulating fabric keeps your hands protected from high temperatures so you can keep moving. They're perfect for use with cooking or for everyday fire pit tool use. 
Keeping your Cast Iron clean has never been easier than with our 304 Stainless Steel Cast Iron Scrubber. Caring for the gear that makes your memories last is a top priority for any Solo Stove owner. Cast Iron Scrubber is ultra durable, cleans your cast iron completely, and is easy to keep tidy with just dish soap and warm water.
Cast iron needs to be properly seasoned so it can be used for years to come. When your cast iron has dried after cleaning, lightly coat the entire surface with the oil. Wipe away excess oil, then let your cast iron heat for 20 minutes in the oven, on the stove, or even over hot coals in your fire pit. Solo Stove Seasoning Oil features an easy spray nozzle, so you can coat cast iron with ease. It was formulated specifically for seasoning cast iron, and should not be used while cooking. Don't worry, it is food safe, but wouldn't provide much flavor. Get some for your cast iron today.
---
Coming Soon
Harness all the possibilities of open fire cooking with two new cast iron surfaces arriving this Fall: Cast Iron Wok and Cast Iron Griddle (campfire pancakes, here we come!). 
---
Visit solostove.com to pre-order the Fire Pit Cooking System today.